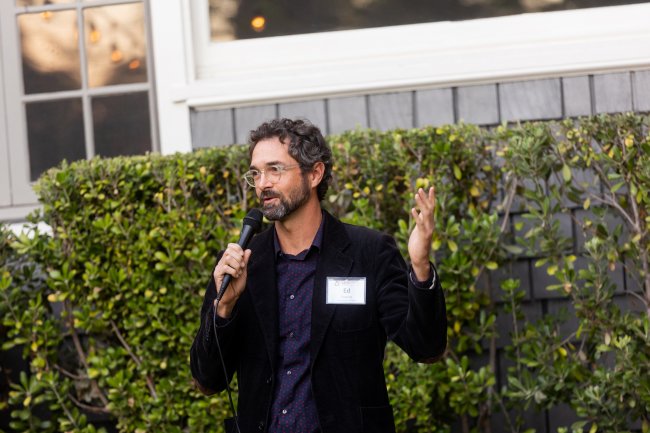 Ed France, Executive Director of Leading From Within, Provides Collaboration and Career Advice to ELI Students.
Ed France, a true mover and shaker in the Santa Barbara community, shared his experiences of working collaboratively at UCSB and within Santa Barbara with ELI students during a visit to campus on Friday, October 22nd. As Executive Director of Leading From Within, Ed and his organization foster a dynamic network of diverse social sector leaders who work together to improve our community. Ed brought an energy and spirit of collaboration to ELI with an impactful session of story-telling and intentional listening activities that drew from his own experiences as an undergraduate and now as a professional.
Ed himself is a graduate of UCSB's Environmental Studies Department and began his activism work inspiring change on campus. He received the Environmental Service award as a student organizer for co-founding the campus composting program, Department of Public Worms, and the statewide California Student Sustainability Coalition, and leading a $1.2 million initiative to build the broida bicycle path. Ed's experiences demonstrate the impact undergraduate students can have in projects such as those of ELI students.
Since his time at UCSB, Ed has amassed over twenty years of experience in the social sector as a volunteer, social entrepreneur, and non-profit executive. Ed lead the Santa Barbara Bicycle Coalition and SBBIKE, co-founded the Bici Centro Do-it-yourself bike education center, worked in local government with the City of Santa Barbara, and served on City Advisory committees. Ed inspired ELI students with stories of environmental change, and also demonstrated the power of building relationships and networks. Ed shared the importance of mutually beneficial collaborations with mentors and other partners. ELI students, many of whom will be working in partnerships or as teams, will carry these messages and guidance as they embark on their ELI projects and are matched with expert mentors in the months ahead.
*Photo by Sarita Relis Photography at a previous event.