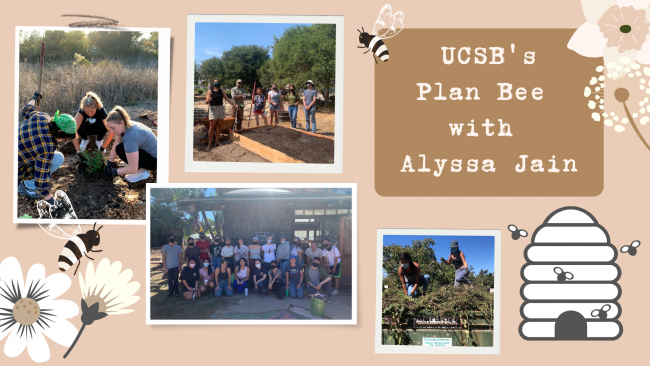 Plan Bee Creates a Buzz
Below is from UCSB's The Coastal Fund Newsletter
Plan Bee began in Fall 2019 as an Environmental Leadership Incubator project to conserve native bees around campus through habitat creation and raising public awareness. To create new pollinator habitats, Plan Bee has collaborated with several campus and local organizations. Early last summer, Plan Bee partnered with St. Michael's University Church to create a new pollinator garden; faculty, staff, and student volunteers worked together to build raised beds and plant native shrubs that attract local pollinator species! And, this past fall, Plan Bee and the Greenhouse Garden Project hosted several volunteer workdays to weed, mulch, and plant another pollinator garden at the Greenhouse Garden Project. As these two gardens grow and provide much-needed habitat for native bees, Plan Bee is excited to continue creating new pollinator habitats around UCSB.
In addition to habitat creation, Plan Bee has been working to make UCSB a certified Bee Campus USA through the Xerces Society's certification program that recognizes campuses for committing to pollinator conservation. In preparation for this, UCSB created a Bee Campus USA committee to oversee conservation efforts, bringing together students passionate about native bee conservation, staff members working on landscaping and restoration on campus, and faculty specializing in pollinators, agriculture, and environmental studies. With support from Chancellor Yang and the Chancellor's Sustainability Committee, UCSB submitted its application and was recently approved as the newest Bee Campus USA! As a Bee Campus affiliate, UCSB will maintain and create pollinator habitat, host educational events to raise awareness about the importance of native bees, and offer more service-learning opportunities for students to get hands-on experience with pollinator conservation.
To learn more and get involved, visit UCSB's bee campus USA website, created by Plan Bee's website intern Isabella Puchkova at https://www.ccber.ucsb.edu/bee-campus and check out @UCSBPlanBee on Instagram!