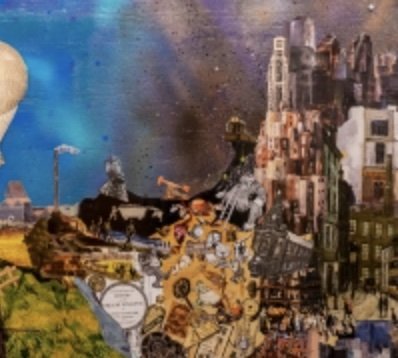 Noah Weiss and Lukas Kraak's ELI art installation opens!
This week, Noah Weiss and Lukas Kraak, ELI students during the 2021-2022 academic year, share with the UCSB community the culmination of their ELI experience with an art exhibit at the UCSB library. The pair created Anthroterra, or human earth, to tell the story of human's impact on our planet, the changes that have occurred in the past 200 years, and what our future could look like.
Fri, 01/13/2023 - 8:00am to Fri, 06/30/2023 - 5:00pm
Exhibition
Location: Ocean Gallery
Anthro-terra = Human Earth
The relationship of humanity to the natural world has been shifting. Within the last 200 years, the scale and weight of human impact has accelerated and humanity is now the main driver of environmental change. We must reconcile the negative impact we have had on our natural world with our duty to reduce societal inequities and push for action that creates a healthy world for all of us. This piece charts our changing planet and what progress could look like.
This exhibition was created by UCSB undergraduate students Lukas Kraak and Noah Weiss, as part of UCSB's Environmental Leadership Incubator and is in conjunction with UCSB Reads 2023. This year's UCSB Reads book Happy City: Transforming Our Lives Through Urban Design by Charles Montgomery challenges us to explore how city planning and personal decisions can have profound implications for social equity, sustainability, and our overall well-being.
The exhibition is generously funded by The Green Initiative Fund.
With special thanks to Kristen LaBonte, UCSB Librarian, for her mentorship on this project.