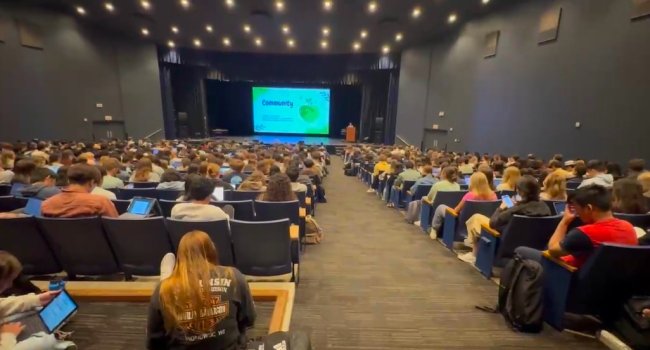 ELI student (2022-2023), Danica Kern, brings Climate Convos, a student club where members can discuss emotions associated with caring deeply for the planet, to the UCSB campus.
A common problem among environmental studies students, or, more broadly, anyone who engages with climate news, is the feelings of grief and anxiety that accompany learning about the scale of climate change. In fact, according to Danica Kern's eco-anxiety survey, 86% of students respondents said climate change makes them feel afraid, anxious, or angry. Addressing the emotional aspect of the climate crisis is a considerable obstacle to surmount. How do we engage meaningfully with the science, while also taking care of ourselves and our emotional needs?
ELI student and 3rd year environmental studies major, Danica Kern, sought to answer this question with her project, "Climate Convos," a club in which environmentalists can come together to discuss the emotional difficulty of caring so deeply for the planet in the present context. "I wanted to empower students to feel like capable change agents in the face of learning about the extremity of environmental problems," says Kern. "This club acts as a support group to help environmentalists cope while coming to awareness of the reality of our environmental situation."
Kern's passion, sensitivity, and drive took this project to a greater scope. To be better equipped as an environmentalist and a club facilitator, Kern applied for Good Grief Network's 12 week FLOW facilitation training at the suggestion of her project mentor at the Network, Dean LaCoe. This program teaches its participants how to build brave and emergent spaces to guide others in metabolizing collective grief, eco-distress, and other heavy emotions that arise in response to daunting planetary crises. "This enabled me to eventually facilitate heartfelt discussions on my own, creating spaces where students could feel safe expressing their heavy feelings," says Kern.
During the Spring 2023 quarter, Kern's exemplary background in the topic of eco-emotions allowed her to give two guest lectures in Jen Martin's ENVST 3 course. Addressing over 700 students in Campbell Hall allowed Kern an even broader reach to further her cause, including the aforementioned survey, in which 46% of students answered a 4 or 5 on a scale of 1-5 that they would want emotional support offered specifically for ES students. Kern plans to present this information with a list of resources to the ES department in order to make strides towards more comprehensive mental health support in the realm of eco-anxiety at large and the UCSB environmental studies community specifically.
To learn more about Kern's project, check out the Climate Convos Instagram page @ucsbclimateconvos, or watch Kern's panel conversation with Sarah Jaquette Ray and Laura Schmidt. You can also watch Kern's lectures.