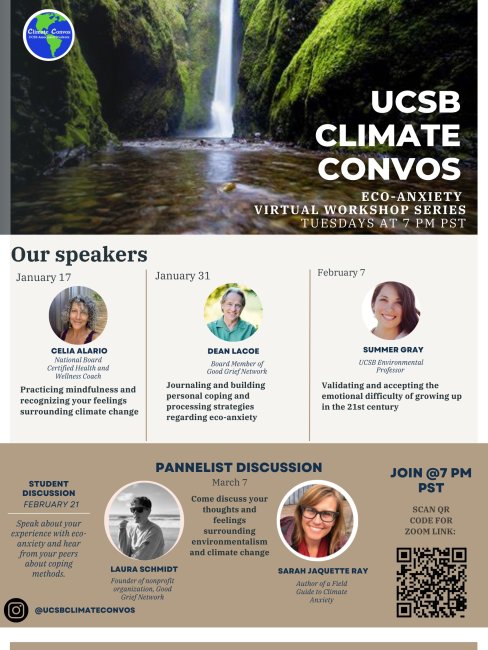 Environmental Leadership Incubator (ELI) student, Danica Kern (2022-2023), launches a new eco-anxiety lecture series to begin climate community conversations at UCSB.
Fueled by a desire to create community and acknowledging a gap in climate grief and eco-anxiety discussions among environmental professionals, Danica Kern (ELI class of 2023) is implementing her ELI project to begin a series of climate conversations among UCSB students. Danica has formed a student club, which will be known as Climate Convos, the mission of which is "aid environmentalists in reframing their mindset about our future in a more positive light" and "to create a community of people who understand each other's passions and encourage one another to reach their greatest potential for the betterment of themselves and our planet." The goal of the club is to have "open discussions centered around the difficulty of processing environmental issues" and to create a supportive community network.
To launch the club, Kern has scheduled this virtual workshop series throughout winter quarter with facilitators to help get conversations flowing around practicing mindfulness, building coping strategies, and others. The full workshop series is open to all students, regardless of major.