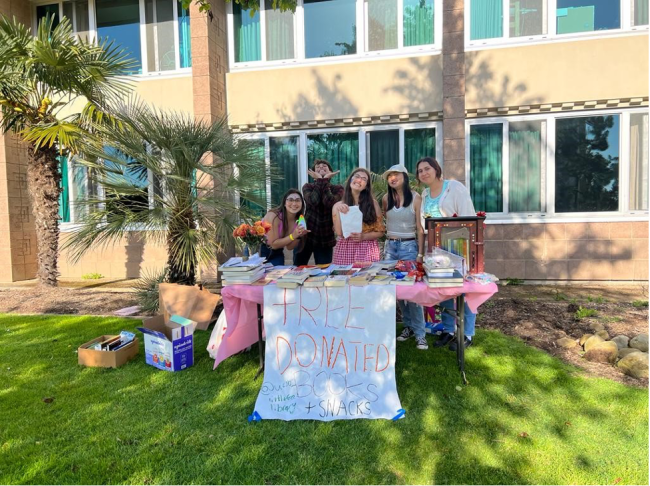 Communications major, Shoshana Medved, brings little free libraries to the UCSB residence halls to promote book sharing and sustainability.
"Free little libraries"--small boxes filled with donated books from neighborhood residents–are often an iconic and quaint facet of any neighborhood, including our very own Isla Vista. However, there were no free little libraries on the UCSB Campus, a significant lapse considering a large portion of students opt to live in residence halls rather than in Isla Vista.
Second-year Communications major, Environmental Leadership Incubator (ELI) student, and Resident Assistant Shoshana Medved sought, as her ELI project, to remedy this by installing UCSB's very first free little library in the San Rafael Residence Hall, which celebrated its opening day on May 7th. "My goal was to increase sustainable reading across residence halls. I noticed there was a lot of waste when it came to books…I knew that I wanted to create a free little library because it is a great way to get used books recirculated in the community," Medved explains.
Medved's project was community oriented through every step of the way, beginning with a decorating event for the free little library, using supplies sourced from Santa Barbara's Art From Scrap. The grand opening of the free little library was hosted during the residence hall's "Chi-Chella" event, and Medved was able to recirculate over 100 books back into the community, promoting both sustainability and her passion for literature and knowledge.
Medved speaks highly of the ELI program, which made this project possible. "I just really believe that being able to make a difference on campus, especially an environmental impact, is so special, and I would highly recommend this program to anyone at all who wants to be involved with our local communities," Medved says, in regards to the ELI program and mentorship. "You do really get to create change on campus, and you get to see that too."
The free little library is presently installed at the San Nicolas residence hall. More information and future events can be found at the project's Instagram page, "ucsb_freelittlelibrary."