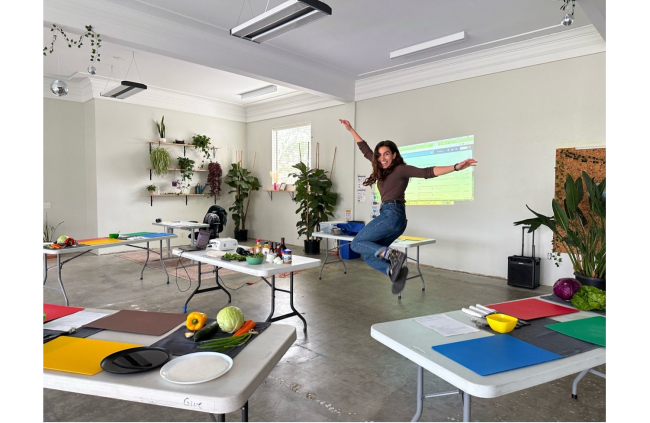 Sustainable Food Studies Lab: Student-led Food Access and Autonomy at UCSB
ELI student Lily Melendez ('22-'23) leads hands-on sustainable food studies lab, covering food systems, nutrition, and sustainability through the lens of student empowerment
ENVS 194SF: Sustainable Food Studies Lab, offered this Spring 23, is ELI student Lily Melendez's answer to a deeply flawed and inequitable food system. Meeting twice a week, on Mondays for a seminar-style lecture and Wednesday for a hands-on workshop, the class aims to educate students on the issues with our present-day food system, as well as educating them on available alternatives and the skills necessary for self care and nutrition in harmony with the planet. Per the syllabus, ENVS 194SF educates students to have the "knowledge [that] will help dismantle the cognitive dissonance between the food that is produced and the consumer, allowing the student[s] to visualize the people, systems, economies, cultures, and environments that bring their foods to the table." Under faculty advisor and food systems expert Liz Carlisle, Melendez has drawn from both their own passion and extensive knowledge of food systems, as well as bringing in a wide range of guest speakers, to create an engaging course that is both comprehensive and inspiring.
"I thought to myself, why is there no public health course at this school, why is there no teaching kitchen?" says Melendez, '23. "Why do we not have these resources where we can learn how to care for ourselves and also for our environment at the same time?" Melendez's question likely resonates with many students, for whom adjustments to college life, widespread food insecurity, and the complexity of a largely unsustainable food system makes feeding oneself difficult. "I wanted us to be empowered by our own decision-making and not having to rely on experts always, because really, eating, it can be very simple. Really it's intuitive and understanding what your body needs, tapping into what we can do on our local scale systems, we have so much food but we don't even know!" Melendez explains.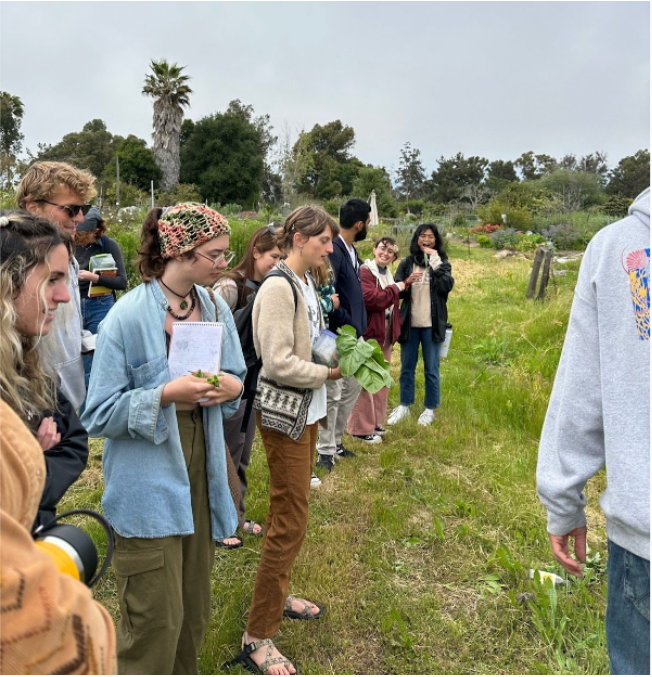 Students on the edible weeds walk with IV Ethnobotany
The curriculum of ENVS194SF echoes this sentiment of self-determination, featuring lectures on Food Histories, Economies, and Politics; Life Cycle Analysis of Local Food Systems; Food and the Climate Crisis: Sustainable Agriculture and Agroecology; Food Sovereignty; Food as Cultural Memory and Preservation; Breaking Down Monolithic "Nutritionism;" and Cooking for One's Health and Environment. The workshop days include four cooking workshops hosted at the IV Community Center, teaching students proficiency with kitchen tools and techniques, and providing healthy and sustainable meals for workshop attendees to enjoy. In line with the values of the course, Melendez takes home food scraps to compost, and extra food is given away to students and guests. Other workshop events for the course include a tour of Gaia Farms, an edible weed walk with IV Ethnobotany; a discussion with a sustainable beekeeper; and a composting workshop with UCSB Department of Public Worms.
Attending one of Melendez's workshops, it is immediately apparent the kind of impact and community this course is able to foster. Students share laughs over cutting boards, commiserating over midterms, making jokes and telling stories, but largely, still talking about food systems. Even outside of structured lecture time, Melendez's instruction has equipped students with the passion and knowledge to continue these conversations. Leaving the Sustainable Food Studies lab, students will have acquired informed decision-making skills and heightened awareness of the food system they play a role in, and the ability to do so in a sustainable, healthy, and equitable way.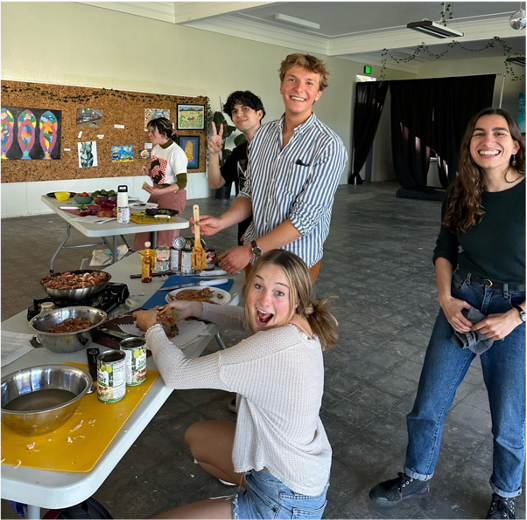 Students cooking jackfruit tacos at a cooking workshop