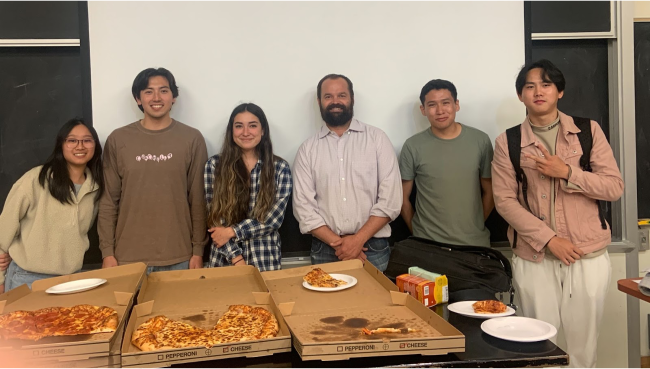 ELI Students, Lisa Tobin and Ethan Takekawa, create Sustainable Investing and Financial Literacy Workshops
For the average college student, managing finances is already complicated enough. Adding sustainability into the mix is something that can be difficult to manage on top of everything else. ELI students, Lisa Tobin and Ethan Takekawa, both third-year Environmental Studies and Economics double majors, have combined their passion for sustainability and financial wellness to address this issue through the creation of sustainable investing and sustainable personal finances.
"Ethan and I started this project with the idea of creating an app to help college students start investing sustainably," says Tobin. However, Tobin and Takekawa soon realized a huge barrier to sustainable investing among college students is lacking the capital to invest in the first place. Investing isn't a first priority for students who are having difficulties paying for school, rent, and food. "So we decided to run a workshop on sustainable personal finances," Tobin explains. This sustainable financial wellness workshop, hosted May 2023 in partnership with UCSB's Community Financial Fund, educated attendees on how to manage their personal finances with sustainability in mind, allowing students to align their money with their values while also obtaining financial wellness.
However, Tobin and Takekawa were still interested in sustainable investing. Meeting the needs of students through their financial wellness workshop, the two ELI students wanted to continue the series on investing for students who were still interested. "Sustainable Investing: How to be a Smart Investor Who Cares About Climate Change" was the result, a workshop on sustainable investing featuring guest speaker Breene Murphy, the Vice President at Carbon Collective Investing.
"It was incredibly rewarding to see other students' interest in what we are passionate about. Seeing Breene feed the curiosity of these students and getting the gears turning about how we can all be wiser with our money and combat climate change made the whole project worth it!" says Takekawa, about the event. Tobin, Takekawa, and Breene strived to educate students on what options are available for green investing, and how investing your money the right way can be an important and empowering tool in the face of climate change.
Tobin and Takekawa are also involved in the New Venture Competition, working on their startup GreenLemr, an app which makes sustainable investing easier by examining companies practices and informs investors of greenwashing or unsustainable activities. Tobin and Takekawa believe that financial wellness and sustainability are closely intertwined, and are determined to make sure everyone has the resources, knowledge, and empowerment to commit to environmental values while also achieving financial wellness.