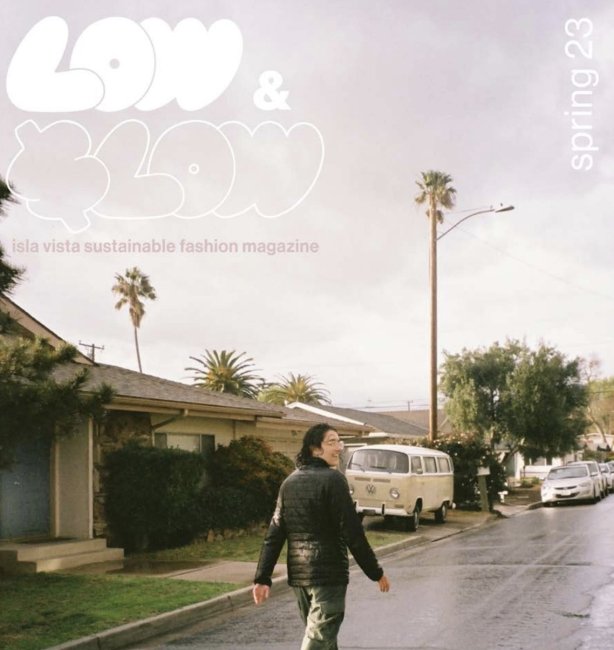 ELI students, Ellah Foster and Vincent Cuenco (2022-2023), created digital magazine—Low and Slow—focused on the Isla Vista' slow fashion scene, clothing sustainability, style, and everything in between.
From study session sweatpants to Friday night glam, fashion can be an important part of the college student identity, with the library corridors and dining hall tables becoming a catwalk of sorts. Fashion allows students an expression of creativity and individuality, but it's not without its costs, both monetary and environmental: according to New York University's "The Environmental Impacts of Fast Fashion on Water Quality: A Systematic Review," fashion is the second most polluting industry, "with an 8% contribution to global carbon emissions in total with an estimated 50% increase in greenhouse gas emissions by 2030."
Fortunately, there are alternatives within the world of fashion, in the form of thrifting, upcycling, and clothing swaps, not only making fashion more ethical and sustainable, but enabling opportunity for creativity and collaboration as well. ELI Students Ellah Foster (Communications, '24) and Vincent Cuenco (Environmental Studies, '24) created a digital zine, highlighting the ways in which fashion can be not only more sustainable and ethical, but also enabling opportunities for creativity and collaboration.
"Our project for the Environmental Leadership Incubator was a digital magazine—Low and Slow—focused on Isla Vista' slow fashion scene. We brought on a team of student writers and designers to create content about clothing sustainability, style, and everything in between. Our final product was a 40+ page zine full of resources, inspiration, and helpful information for students and community members," says Foster. The zine features more educational articles such as Casey Gallagher's "The Cost of Fast Fashion," to more lighthearted features of local artists and vintage curators in Madeline Cooper's article "Local Craftsmen."
Foster and Cuenco worked very collaboratively to make this project possible, contributing valuable leadership and organizational skills to manage the magazine's 20 different contributors. "I loved the creative nature of our project. While there was a lot of logistical planning behind the scenes, I appreciated that our project focused on changing peoples' mindsets through written and visual art," says Foster, of the wide array of contributions the magazine received. Foster and Cuenco worked jointly to make this zine happen under the guidance of ELI mentor and Environmental Studies alum, Tiffany Ngo. The zine as a whole serves as a celebration of the sustainability and creative outlets that are possible when we work collaboratively.
The zine can be viewed at LowandSlowMag on issuu.